India\'s Mars Orbiter Mission Mangalyaan reaches Mars
Posted on : 30-09-2014 | Back | Print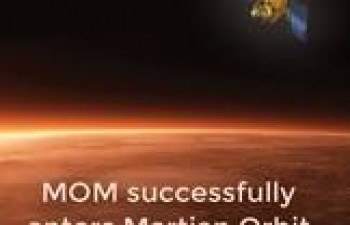 Mangalyaan, India's first spacecraft to visit Mars, has beamed home its greatest photo of the Red Planet yet, a view that reveals the planet from pole to pole.
The new photo from India's Mangalyaan probe shows Mars as a red globe in space, with the planet's southern ice cap clearly visible, while a huge dust storm blankets part of the northern region.
The Mangalyaan spacecraft used its Mars Color Camera to capture the amazing photo from a distance of 46,292 miles (74,500 kilometers) above the Red Planet on 28 September, 2014. It is the third and best view of Mars from Mangalyaan since the spacecraft arrived in orbit around the planet on 24 September, 2014.
India's first interplanetary probe Mangalyaan, a $74 million Mars Orbiter Mission, launched toward the Red Planet on 5 November 2013 from Satish Dhawan Space Centre, Sriharikota, with a lift-off mass of 1337 kg aboard the launch vehicle PSLV-C25.
Prime Minister Narendra Modi used the metaphor of cost of travel by auto in Ahmedabad, the capital of Gujarat state, to the expenditure incurred on the Mars Orbiter Mission in covering the 650 million km distance to Mars by the unmanned spacecraft.
"A one-km auto rickshaw ride in Ahmedabad takes Rs 10 and India reached Mars at Rs 7 per km which is really amazing," the Prime Minister said.
Go to Top | Back | Print