H.E. Mr. E. Ahmed, MOS (EA) calls on H.E. Mr. Abdelmalek Sellal, Prime Minister of Algeria on 18 April, 2013
Posted on : 25-08-2013 | Back | Print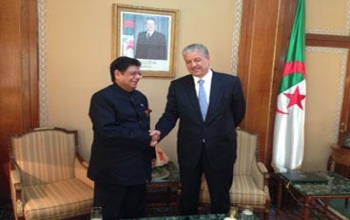 H.E. Shri E. Ahamed, Minister of State for External Affairs paid an official visit to Algeria from 17-18 April, 2013 at the invitation of Foreign Minister of Algeria. The prime objective of the visit was to revive and renew our already strong bilateral relations on the occasion of the 50th anniversary of Algeria's independence and 50 Years of establishment of diplomatic relations between India and Algeria. Algeria is the largest country and second largest economy in Africa with considerable bilateral trade between India and Algeria to the tune of US$ 2.2 billion.
MOS(EA) called on the Prime Minister H.E. Mr. Abdelmalek Sellal, and the Foreign Minister H.E. Mr. Mourad Medelci. During his interaction with both the leaders, MOS(EA) discussed the possibility of signing term contracts for supply of oil and natural gas to India. Algeria being the 4th largest producer of oil in Africa, possibility of joint venture in manufacture of gas-based nitrogenous fertilizers for captive export to India was also discussed. A Road Map for further strengthening areas of bilateral cooperation including political, commercial & economic, human resource development and science & technology was discussed.
The Algerian side requested India for furthering cooperation in the field of ICT and pharmaceuticals. MOS(EA) expressed interest in participating in the presidential programme for development of infrastructure including social housing,roads & highways, railways and airports. Possibility of more cultural cooperation and people-to-people contacts including hosting Indian food festival and film festival in Algeria was also discussed. Both sides expressed satisfaction at the excellent level of bilateral relations in various sectors. It was, however,expressed that a huge potential exists for further development of these relations for which the two sides would work together under the Road Map drawn for it.
Go to Top | Back | Print