Unveiling of the Portrait of former PM Late Atal Bihari Vajpayee ji by Hon'ble Rashtrapati ji at 1100 hrs (IST) (6:30 AM Algerian Time) on 16th August 2020
Posted on : 12-08-2020 | Back | Print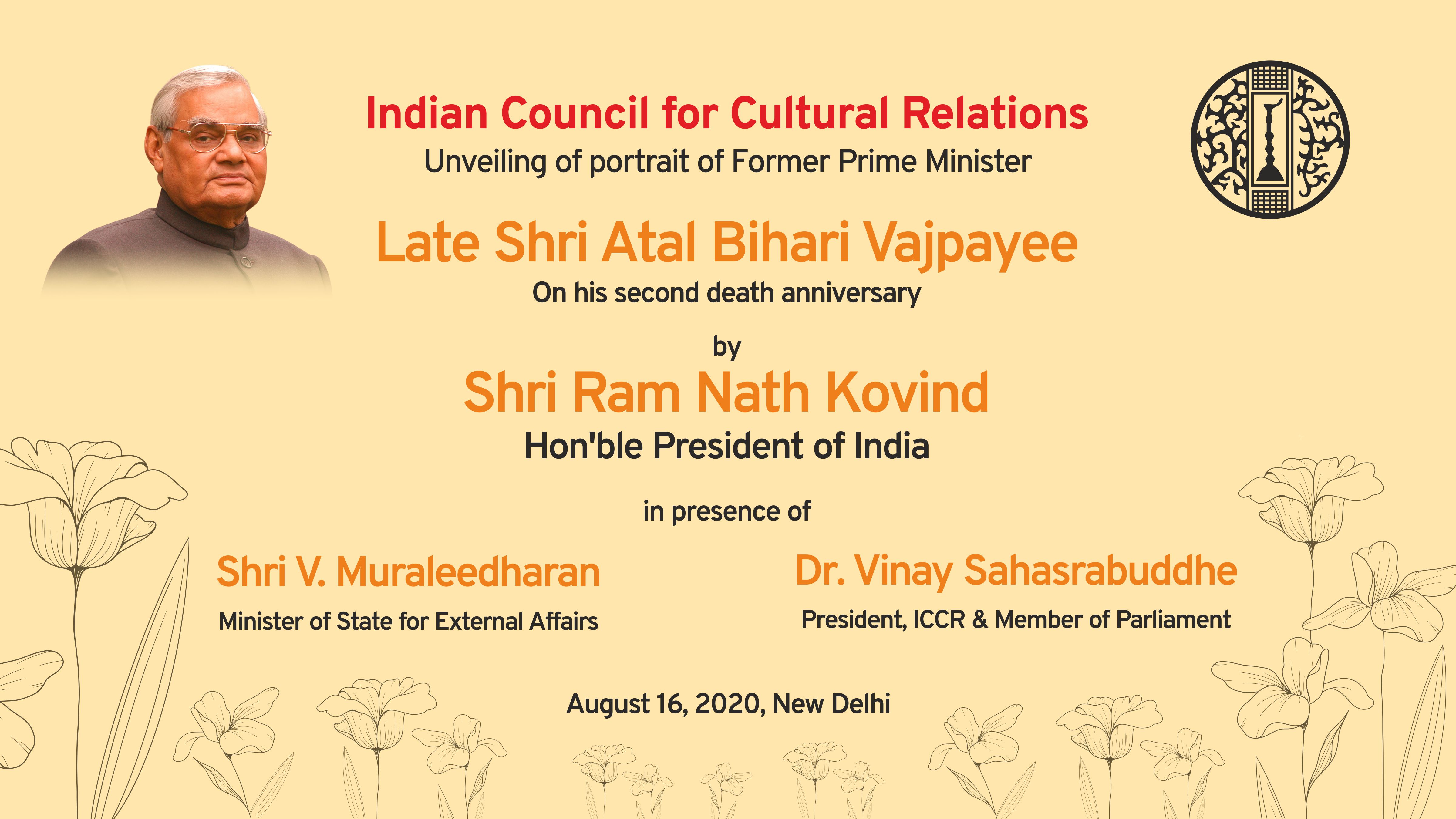 Indian Council for Cultural Relations
Azad Bhavan, New Delhi
Press Release

Unveiling of Portrait of Shri Atal Bihari Vajpayee ji
at ICCR headquarters
ICCR is organizing an event in the memory of late Shri Atal Bihari Vajpayee ji, former Prime Minister of India on 16 August, 2020 by unveiling Shri Vajpayee's portrait at ICCR premises. The event is being organized on Shri Atal Bihari Vajpayee ji's 2nd death anniversary remembering him and his contributions towards the building of Nation.
The event on 16 August will commence with the unveiling of Shri Atal Bihari Vajpayee ji's painting by Shri Ram Nath Kovind, Hon'ble President of India in a virtual mode in the presence of Shri V. Muraleedharan, Minister of State for External Affairs and Dr. Vinay Sahasrabuddhe, President of ICCR and Member of Parliament. The painting has been created in oil-on- canvas by Shri Vasudeo Kamath, an eminent and well-known painter in Mumbai, a gold medalist who has received several awards both nationally and internationally.
Shri Atal Bihari Vajpayee served as the ex-officio President of ICCR from March 1977 to August 1979 when he was Foreign Minister in the post-Emergency Janata government. During his tenure as Foreign Minister, Vajpayee ji became the first person in 1977 to deliver a speech to the United Nations General Assembly in Hindi. It was his vision and guidance which saw ICCR further expand and propagate Indian culture worldwide. As Member of Parliament, as Minister of External Affairs and finally as Prime Minister, Shri Atal Bihari Vajpayee left a distinguishing and lasting impression on ICCR's activities.
ICCR was established on 9 April 1950 to actively participate in the formulation and implementation of policies and programmes pertaining to India's external cultural relations; to foster and strengthen cultural relations and mutual understanding between India and other countries and to promote cultural exchanges with other foreign countries and people. ICCR has 19 Regional Offices in various states in India and 38 Cultural Centres abroad to implement its programme globally. Over the years, ICCR has grown in size and its activities, and is today the Cultural Diplomacy arm of the Ministry of External Affairs with a mandate to project India's soft power abroad.
************
Conseil Indien des Relations Culturelles
Azad Bhavan, New Delhi
Communiqué de presse
Dévoilement du Portrait de Shri Atal Bihari Vajpayee ji au siège de l'ICCR
ICCR organise un événement à la mémoire de feu Shri Atal Bihari Vajpayee ji, ancien Premier ministre de l'Inde le 16 août 2020 en dévoilant le portrait de Shri Vajpayee dans les locaux de l'ICCR. L'événement est organisé à l'occasion du 2e anniversaire de la mort de Shri Atal Bihari Vajpayee ji en souvenir de lui et de ses contributions à la construction de la Nation
L'événement du 16 août commencera par le dévoilement de la peinture de Shri Atal Bihari Vajpayee ji par Shri Ram Nath Kovind, Honorable Président de l'Inde en mode virtuel en présence de Shri V.Muraleedharan, Ministre d'état aux Affaires extérieures et Dr Vinay Sahasrabuddhe, président de l'ICCR et membre du Parlement. La peinture a été créée à l'huile sur toile par Shri Vasudeo Kamath, un peintre éminent et bien connu de Mumbai, médaillé d'or et qui a reçu plusieurs prix nationaux et internationaux.
Shri Atal Bihari Vajpayee a été président de droit de l'ICCR de mars 1977 à août 1979, alors qu'il était ministre des Affaires étrangères dans le gouvernement Janata post-urgence. Durant son mandat de ministre des Affaires étrangères, Vajpayee ji est devenu la première personne en 1977 à prononcer un discours à l'Assemblée générale des Nations Unies en hindi. C'est sa vision et ses conseils qui ont vu l'ICCR élargir et propager davantage la culture indienne dans le monde entier. En tant que député, ministre des Affaires extérieures et enfin Premier ministre, Shri Atal Bihari Vajpayee a laissé une impression distinctive et durable sur les activités de l'ICCR.
L'ICCR a été créé le 9 avril 1950 pour participer activement à la formulation et à la mise en œuvre des politiques et programmes relatifs aux relations culturelles extérieures de l'Inde; favoriser et renforcer les relations culturelles et la compréhension mutuelle entre l'Inde et d'autres pays et promouvoir les échanges culturels avec d'autres pays et peuples étrangers. L'ICCR dispose de 19 bureaux régionaux dans divers états de l'Inde et de 38 centres culturels à l'étranger pour mettre en œuvre son programme à l'échelle mondiale. Au fil des ans, l'ICCR a grandi en taille et en activités, et est aujourd'hui la branche de la diplomatie culturelle du ministère des Affaires extérieures avec pour mandat de projeter la puissance douce de l'Inde à l'étranger.
************
المجلس الهندي للعلاقات الثقافية
آزاد بهافان ، نيودلهي
خبر صحفى
إزاحة الستار عن بورتريه شري أتال بيهاري فاجبايي جي في مقر المجلس الهندي للعلاقات الثنائية
ينظم المجلس الهندي للعلاقات الثنائية حدثًا في ذكرى الراحل شري أتال بيهاري فاجباي جي ، رئيس الوزراء السابق للهند في 16 أغسطس ، 2020 من خلال الكشف عن صورة شري فاجبايي في مقر المجلس الهندي للعلاقات الثنائية. يتم تنظيم هذا الحدث في الذكرى الثانية لوفاة شري أتال بيهاري فاجبايي جي الذي يتذكر مساهماته في بناء الأمة.
سيبدأ الحدث في 16 أغسطس بإزاحة الستار عن لوحة شري أتال بيهاري فاجباي جي للرسام شري رام ناث كوفيند ، رئيس الهند المحترم في وضع افتراضي بحضور وزير الدولة للشؤون الخارجية شري في موراليداران ود. فيناي سهسرابوده ، رئيس المجلس الهندي للعلاقات الثنائية وعضو البرلمان. رسم اللوحة الزيتية على القماش بواسطة شري فاسوديو كاماث ، رسام بارز ومعروف في مومباي ، حائز على ميدالية ذهبية و العديد من الجوائز على الصعيدين الوطني والدولي.
شغل شري أتال بيهاري فاجبايي منصب الرئيس بحكم منصبه في المجلس الهندي للعلاقات الثنائية من مارس 1977 إلى أغسطس 1979 عندما كان وزيراً للخارجية في حكومة جاناتا بعد الطوارئ. خلال فترة توليه منصب وزير الخارجية ، أصبح فاجبايي جي أول شخص في عام 1977 يلقي خطابًا في الجمعية العامة للأمم المتحدة باللغة الهندية. كانت رؤيته وتوجيهاته هي التي أدت إلى زيادة توسع المجلس الهندي للعلاقات الثنائية ونشر الثقافة الهندية في جميع أنحاء العالم.
بصفته عضوًا في البرلمان ، ووزيرًا للشؤون الخارجية وأخيرًا كرئيس للوزراء، ترك شري أتال بيهاري فاجبايي انطباعًا مميزًا ودائمًا على أنشطة المجلس الهندي للعلاقات الثنائية.
تأسس المركز في 9 أبريل 1950 للمشاركة بنشاط في صياغة وتنفيذ السياسات والبرامج المتعلقة بالعلاقات الثقافية الخارجية للهند ؛ لرعاية وتقوية العلاقات الثقافية والتفاهم المتبادل بين الهند والدول الأخرى وتعزيز التبادلات الثقافية مع الدول والشعوب الأجنبية الأخرى. لدى المجلس الهندي للعلاقات الثنائية 19 مكتبًا إقليميًا في ولايات مختلفة في الهند و 38 مركزًا ثقافيًا في الخارج لتنفيذ برنامجه على مستوى العالم. على مر السنين ، نما المجلس الهندي للعلاقات الثنائية في حجمه وأنشطته ، وهو اليوم ذراع الدبلوماسية الثقافية في وزارة الشؤون الخارجية مع تفويض لإبراز القوة الناعمة للهند في الخارج.
************
Go to Top | Back | Print