Press Release by Ministry of External Affairs, India on Visit of Foreign Minister of Algeria to India (30 January - 1 February 2019).
Posted on : 04-02-2019 | Back | Print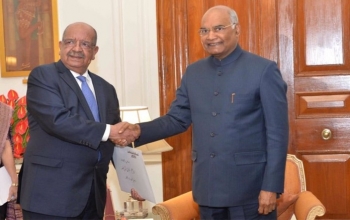 Visit of Foreign Minister of Algeria to India (January 30 - February 01, 2019)
February 01, 2019
H.E. Mr. Abdelkader Messahel, Foreign Minister of People's Democratic Republic of Algeria was undertaking a bilateral visit to India from 30th January to 01 February, 2019. During his visit, he held bilateral discussions with Smt. Sushma Swaraj,External Affairs Minister on a wide range of issues on how to further deepen relations between India and Algeria that include defence and security, fertilizers, space cooperation, Counter Terrorism, Education, ITEC etc. They also discussed regional and multilateral issues of mutual interest.

The visiting Foreign Minister was also the special emissary of H.E. President of Algeria Abdelaziz Bouteflika. He called on Hon'ble Rashtraptiji and handed over a letter from President Bouteflika. It may be recalled that H.E. President Bouteflika was the Chief Guest for Republic Day 2001.

During the visit, the following two documents were signed:

(i) Cultural Exchange Programme (CEP)

(ii) Agreement on visa exemption for holders of diplomatic and official/service passports with Algeria

New Delhi
February 01, 2019

Visite du Ministre des Affaires étrangères de l'Algérie en Inde (30 janvier - 01 février 2019)
1er Févier 2019
S.E. Mr. Abdelkader Messahel, Ministre des Affaires étrangères de la République Algérienne Démocratique et Populaire, a effectue une visite bilatérale en Inde du 30 janvier au 1er février 2019. Au cours de sa visite, il a eu des entretiens bilatéraux avec Smt. Sushma Swaraj, Ministre des Affaires Extérieures, et a abordé de nombreuses questions relatives à l'approfondissement des relations entre l'Inde et l'Algérie, notamment dans les domaines de la défense et la sécurité, les engrais, la coopération spatiale, la lutte antiterroriste, l'éducation, l'ITEC, etc. Ils ont également discuté des questions régionales et multilatérales d'un intérêt commun.
Le Ministre des Affaires étrangères en visite était également l'émissaire spécial de Son Excellence Le président Algérien Abdelaziz Bouteflika. Il a rendu visite a l'honorable Président et lui a remis une lettre du président Bouteflika. On peut rappeler que Son Excellence le président Bouteflika était l'invité d'honneur du Jour de la République 2001.
Au cours de la visite, les deux documents suivants ont été signés:
(i) Programme d'échange Culturel (CEP)
ii) Accord avec l'Algérie sur l'exemption de visa pour les titulaires de passeports diplomatiques et de passeports officiels / de service.

New Delhi
1er Février 2019

Go to Top | Back | Print